FAMU DRS Valedictorian Becomes Pharmacist then completes Medical School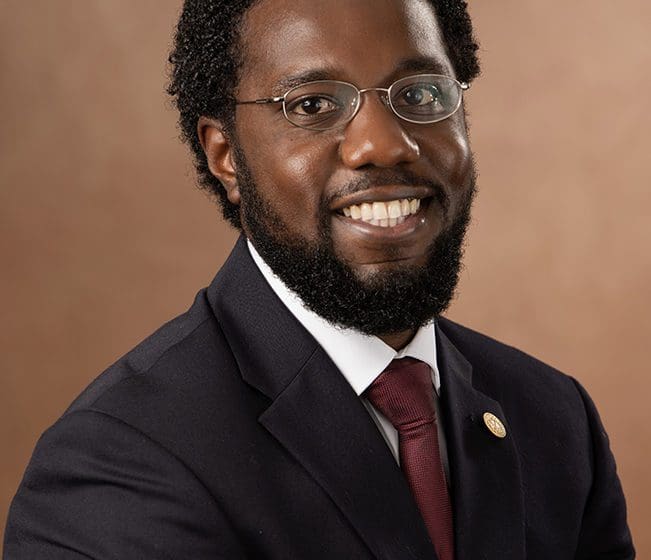 Dr.Terrell Coring is a first year resident physician in Washington, D.C.
By Jamal Brown, PharmD.
Florida A&M University (FAMU) College of Pharmacy & Pharmaceutical Sciences Institute of Public Health (CoPPS,IPH) graduate Terrell Coring, PharmD., M.D., is pursuing his passion to improve lives as a resident physician at Medstar Washington Health Center in Washington, D.C.
Coring's improbable journey took him from FAMU Development Research School and to medical school in the Caribbean.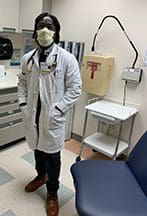 Dr. Terrell Coring at work at Medstar Washington Health Center.
"My journey started with my parents instilling the fear of the Lord in my soul," Coring said. "With that, I prayed for my wife Inez D. Coring, PharmD., who I met in FAMU Pharmacy School, and our union has been blessed," said Coring, who is the father of three sons – Makai is a freshman in college on a basketball scholarship, Micah a 10th grader, and Terrell Jr., who was born in June 2021.
Coring was the valedictorian of the FAMU DRS high school class of 2005. That fall he entered FAMU as a pre-pharmacy student in CoPPS, IPH. Six years later, he graduated from the program with his Doctor of Pharmacy degree.
After pharmacy school, Coring began a career as a community pharmacist. Soon afterward, he realized that he wanted to have more impact on helping patients get healthy. After a few years of retail pharmacy, he switched to clinical pharmacy at a hospital, a move which exposed him to the intricacies of health care.
Soon his curiosity about medicine began to dwarf his desire to advance as a pharmacist. So, with the help of his wife and a supportive family, he decided to pursue a medical degree at Ross University School of Medicine, on the Caribbean island of Dominica.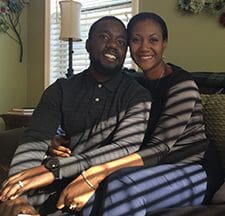 Terrell Coring and his wife Inez are the parents of three sons. She is also a graduate of CoPPS, IPH.
In 2017, while in medical school, Coring faced the wrath of Hurricane Maria. With water rising in his residence, he had to find safety from the pouring rain and winds estimated to 160 miles per hour.
"When I heard the roof peeling, the windows cracking, and the trees snapping; I knew that I was in a life-threatening situation. I also understood that if God spared me from the damages of the category 5 Hurricane Maria, I would still come back to this under-developed Island of Dominica to finish studying medicine at Ross University School of Medicine," Coring recalled. "In my mind, it would be like the motorcyclist that suffered from life-threatening injuries after a motorcycle accident; yet buys another bike and travel the same road where he bled. This type of passion for medicine overjoyed me and allowed me to realize that I was finally pursuing my dreams."
With more than 90 percent of the infrastructure damaged in Dominica, Coring's school worked to create a plan for the students to finish their medical program. With their buildings destroyed, he and his classmates attended classes in trailers, cruise ships and temporary structures. Despite the obstacles, he finished medical school in November 2020. "FAMU College of Pharmacy was and always will be my intellectual cornerstone. This institution of higher learning is special in that it provided opportunity. Once the opportunity was seized, this place instilled in me immense confidence," Coring said. "Therefore, the audacity to be great and to strive to become the best version of myself started at FAMU. I am proud to graduate medical school and begin residency training in Washington, D.C., all while rocking my FAMU license plate."