REMEMBERING Edem Kojo Ablordeppey, PharmD
Edem Kojo Ablordeppey, PharmD, Class of 2019 and son of Drs. Seth and Joy Ablordeppey departed this life on Friday, April 16th 2021.
As a leader in the community, he was a member of the Delta Iota of Kappa Psi Pharmaceutical Fraternity, Incorporated (Fall 2015), the Beta Sigma Chapter of the Phi Lambda Sigma Pharmacy Leadership Society, and the Student National Pharmaceutical Association (SNPhA).
Edem exemplified his truth of being a blessing to others by serving in his local community, encouraging classmates during school-related activities, and traveling outside of the United States to help others.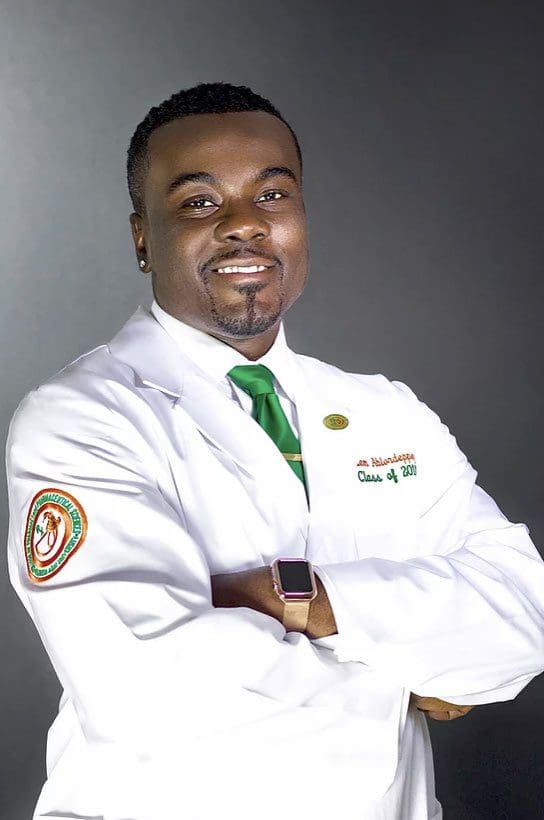 He participated in the Hope International Medical Missions (HIMM), which is a team of Christians who serve the Lord through mission work. They ministered to the physical and spiritual needs of children & adults in Ghana. In addition, Edem participated in the First Baptist Church to Haiti or #FBC2Haiti mission after the 2010 earthquake.
As an advocate for sickle cell, Edem was the speaker at the 2019 Sickle Cell Access to Care Summit, where committed stakeholders came together to explore ways to improve people's lives with the disease. He was also a speaker at the 2020 Artia Crossroads Conference, which specializes in managing pharmaceutical access in the Medicaid marketplace.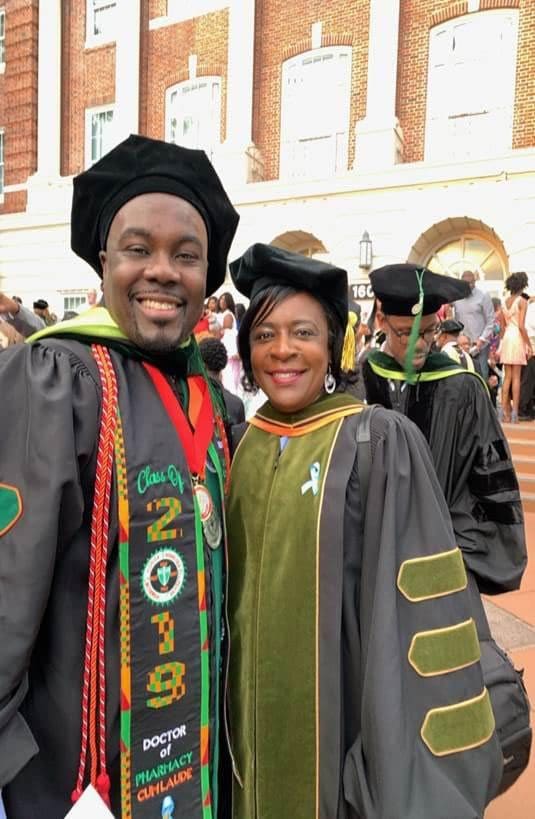 Arrangements are pending.
REMEMBERING Dr. Elicia M. Coley
Quoted from Legacy.com
"Dr. Elicia M. Coley Tallahassee, FL - Elicia Moore Coley, Doctor of Pharmacy, 48, of Tallahassee passed on Sunday, November 22, 2020. Funeral services are 11:00 a.m. Saturday at Life Deliverance Ministries, 3377 South Jim Lee Road, Tallahassee. Public viewing will be held one hour prior to the service on Saturday. Dr. Coley earned her nursing degree from FIU and her Doctor of Pharmacy degree from FAMU. She held leadership positions at TMH, CVS, Gadsden Community Hospital and AHCA.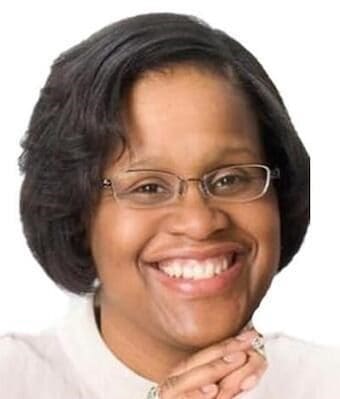 She also was an associate pastor at Overcomers Worship Center. Survivors include her husband, Rev. Dr. Demetrius Coley, Sr.; son, Demetrius II; daughters: D'Aundra and Demetria Coley; parents, Ernest and Emma Fairrow Moore; siblings: Eric (Caroline) Moore and Karon Moore; and numerous other relatives and friends."
REMEMBERING Alphonso Mitchell
A Final Tribute Of Love To Alphonso Mitchell November 28, 1934 - September 22, 2020.
Life Reflextions
Alphonso Mitchell was born in St. Petersburg, Florida on November 28, 1934 to Mary Lee Mitchell and Daniel B. Mitchell. The middle child, Alphonso, commonly known as "Mitch," was a young musician playing several instruments including the piano and saxophone. His love for photography also started at a young age and later developed into a professional career.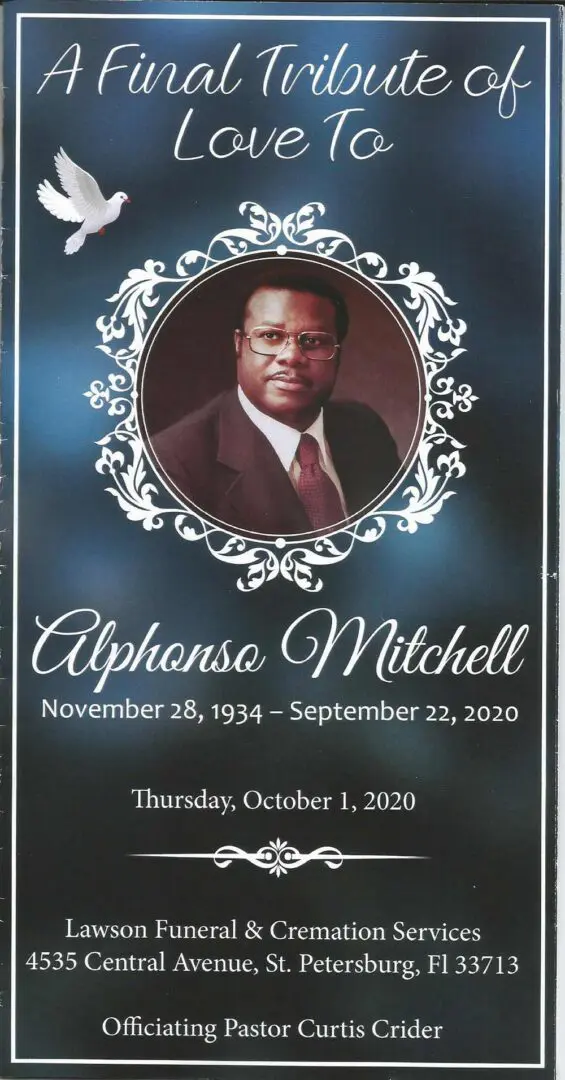 Letter from Mrs. Ozzie Mitchell
She also was an associate pastor at Overcomers Worship Center. Survivors include her husband, Rev. Dr. Demetrius Coley, Sr.; son, Demetrius II; daughters: D'Aundra and Demetria Coley; parents, Ernest and Emma Fairrow Moore; siblings: Eric (Caroline) Moore and Karon Moore; and numerous other relatives and friends."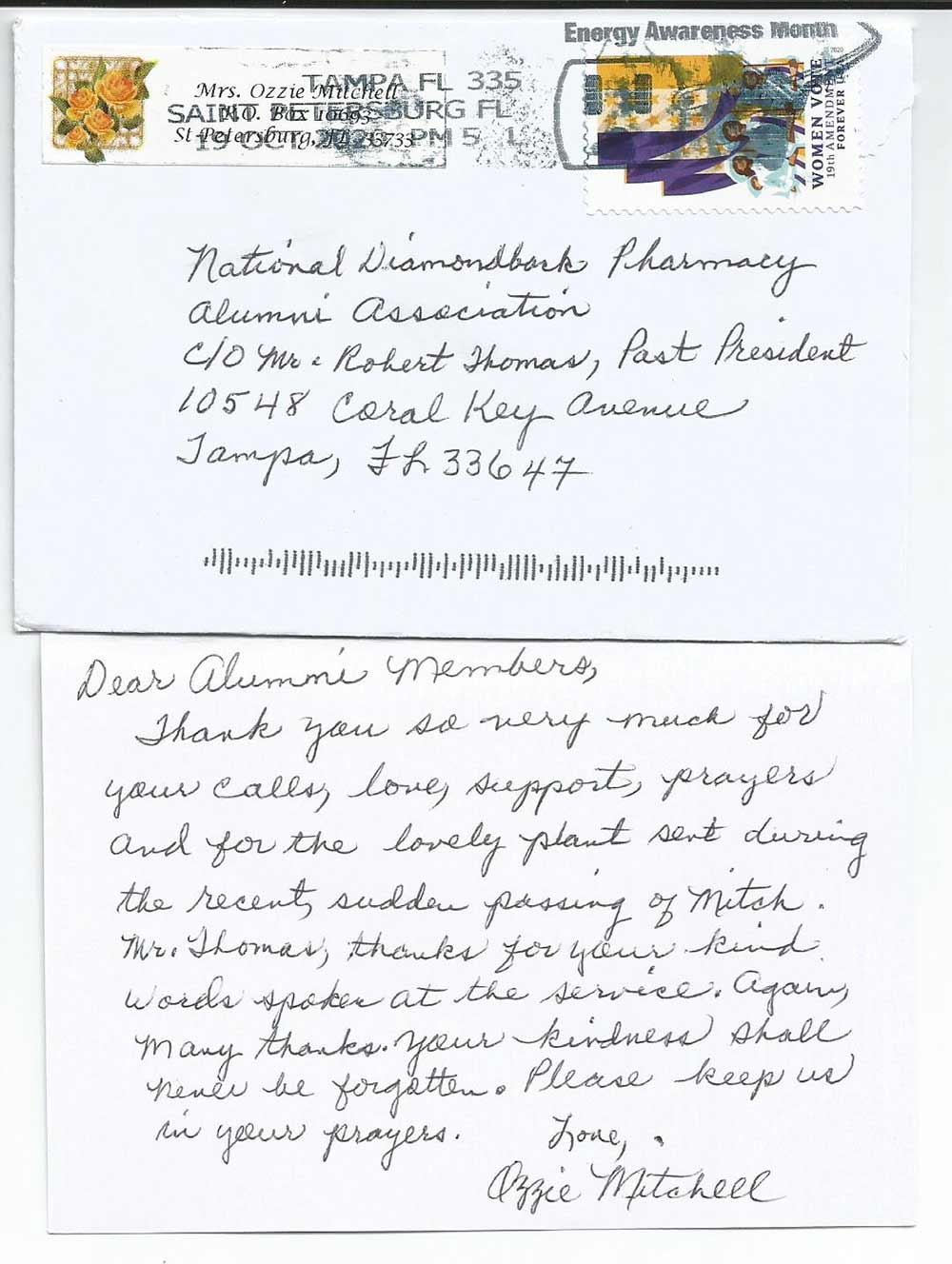 REMEMBERING Homer Humphrey Jr.
Homer Humphrey, Jr. was born March 24, 1933 to Homer Humphrey, Sr. and Ollie Humphrey in Eastman, Georgia. Homer, Jr. learned the importance of God, family, and community early in the tight knit town of Eastman. Homer's parents were industrious people who desired more. When Homer, Jr. was still young, they moved to Miami, Florida, becoming part of the wave of the Great Migration which went to large southern cities. Life in the big city suited stylish Homer, Jr. who took a job at Saks Fifth Avenue before heading off to college. He soon became known around town as a dapper young man, a reputation he would hold for the rest of his life. He graduated from Booker T. Washington High School in 1953 with honors. A high school education was not enough for Homer, Jr., whose parents had encouraged him to go all the way in his studies.
While living with his aunt and preparing to begin college in Detroit, Michigan, Homer learned that he had been drafted into the armed services. He was inducted into the U.S. Army in 1954 where he served bravely and commendably as a lineman in the signal corps. In honor of his valor, he received the Good Conduct Medal, which is awarded for exemplary behavior, efficiency, and fidelity in military service. He also received the German Occupation Medal. He was honorably discharged in 1956. Upon completion of his military service, he went on to matriculate in Pharmacy at Florida Agricultural and Mechanical University (FAMU) where he found the best reward of all.
It was at FAMU that he met another student, the beautiful Grace Kendrick, his match in style and wit. The two married on November 19, 1960. Shortly thereafter, Grace became an educator and Homer began his career as a Registered Pharmacist and Pharmacy Manager. During his professional life, he worked in Lakeland and Miami and served as an entrepreneur (owning his own pharmacy), as well as pharmacist at Mt. Sinai Hospital, Eckerd, Rite Aid, and Winn-Dixie. He never officially retired, and years after he had stopped working daily, he was still willing to go in to train and monitor up-and-coming pharmacists. He served as a mentor for countless young African-American students with aspirations in the field, writing letters of recommendation, counseling students on their courses, and even giving them monetary gifts.
REMEMBERING Vernon Dwayne Parker
Vernon Dwayne Parker RPh, Ph.D. was born on Sunday 19, 1947, to the late Ernest and Hattie Parker in Newark, NJ, as the third of their four children. Known to his family as Dwayne, he and his siblings were raised in the Newark area, making frequent summer trips to Orlando visiting his family. While in Newark, he attended the local public schools making many friends. As a child. he accepted Christ in his life at Mt. Calvary Baptist Church, in Newark, NJ.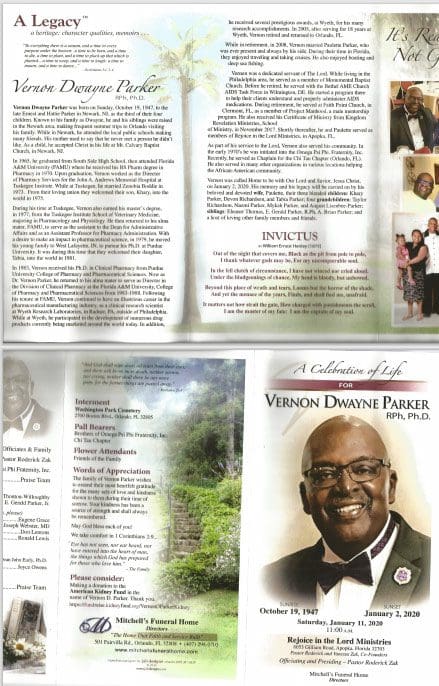 In 1965, he graduated from the South Side High School, then attended Florida A&M University (FAMU) where he received his BS Pharm degree in Pharmacy in 1970. Upon graduation, Vernon worked as the Director of Pharmacy Services for the John A. Andrews Memorial Hospital at Tuskegee Institute. While a Tuskegee, he married Zenobia Boddie in 1973. From their loving union they welcomed their son, Khary, into the world in 1975.
REMEMBERING Leonard L. Inge, SR
One of Florida A&M University's biggest fans raised his Rattlers fangs for the last time, Friday, October 4, 2019. Mr. Leonard L' Inge, Sr., 74, died peacefully at home, appropriately during his alma mater's "Homecoming" celebration weekend. He was wearing an orange FAMU t-shirt during the transition, making his 'Home Going" especially loving and festive. He suffered many years with Parkinson's Disease.
Mr. Inge was born in Prichard, Alabama, on November 2, 1944, to the union of Mr. Teemer Inge, Sr. and Mrs Sallie Smith Inge, both of whom preceded him in death. He was the youngest of 13 children, all of whom are now deceased - Thelma Broxton, Ethel Scott, Clarence Inge, John Inge, Sr., Teemer Inge, Jr., Nathaniel Inge, Sr., Warren Inge, Joseph Inge, Sr., Dorothy Patterson, Wilbert Inge, Sr., Carl Inge, and Oscar Inge.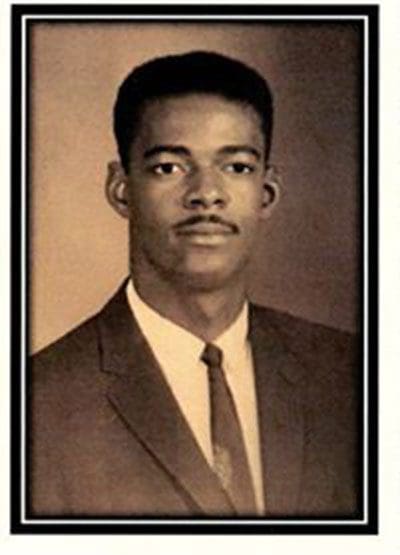 Mr. Inge was a 1962 graduate of Mattie T. Blount High School in Prichard, AL. Racist Jim Crow laws would not allow him to attend Pharmacy School at the all-white Auburn University in his home state. After visiting the "Highest of Seven Hills," Mr. Inge chose the historically Black FAMU and graduated from its School of Pharmacy in 1967. He earned his M.Ed in Adult Education from FAMU in 1976. Mr. Inge was proud of the years he spent with mentors at three African-American owned pharmacies during his career - Lincoln Drug Store in Mobile, Alabama Economy Drug Store in Tallahassee's Frenchtown neighborhood and Baker's Pharmacy, wich sat across the street from FAMU.
Mr. Inge has said one of his most rewarding professional experiences was moving his family to Mount Bayou, Missippi where he served as Associate Clinical Director at the Tufts- Delta Health Clinic. His older brother, Dr. Warren Inge, was a dentist at the clinic. Once returning to Florida, Mr. Inge would teach Pharmacy at FAMU, with a speciality in Pharmacy law; serve as Deputy Director of the Florida Department of Professional Regulation; serve as President of the National Pharmaceutical Association; and serve a decade on the Florida Pharmacy Board, three years as Chairman.
Mr. Inge was a long-time member of Gethsemane Missionary Baptist Church in Thallahassee, where he chaired the Deacon Board. He retired from FAMU in 2007, where he was honored as a "distinguished" alumni.
REMEMBERING Richard D. Edwards
Richard D. Edwards, RPh, class of 1961, Bachelor of Pharmacy, departed this life on July 22, 2018. Born in 1938 in Attalla, Alabama, he was a proud supporter of Florida A & M University. He obtained a Masters Degree in Business Administration in 1973 from Jacksonville State University.
A veteran of the U.S. Army, Richard served as a Hospital Staff Pharmacist at Fort Ord, CA and Ft. McClellan, AL.
In 1968, he was hired as the first black pharmacist at Baptist Memorial Hospital, now Gadsden Regional Medical Center, working there for over 30 years, exiting as the Director of Pharmacy Services in 1995. He continued to practice pharmacy in Northeast Alabama for over 50 years.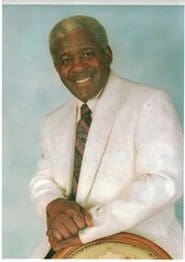 Richard was the proud co-owner of the Skyliner Pharmacy, which was also a meeting place for civil rights organizing and a refuge during tumultuous times in Gadsden. He loved his community and worked tirelessly to make it better, holding leadership positions in the Etowah County Voters League (President); Leadership Alabama (inaugural class); the local NAACP (President); Gadsden Etowah Industrial Development Authority; Alabama Democratic Conference (Chairman) and the SCLC. He was also active with the Gadsden City School PTO and a great supporter of school band programs and music education.
Richard was a member of Mt. Zion Baptist Church, East Gadsden, where he served on the trustee board for many years. He also established programs within the "I Dare You" ministry at MZBC to award youth for high academic achievement. Richard authored a book "Zadie's Boy," based on the true events in his family of his first cousin, Troy, being reunited with his mother after 50 years. He also invented a board game called "That's Not a Word." He was an avid golfer, a lover of many genres of music, and appreciated the arts, especially of poetry and oration. Richard was a life-long member of Kappa Alpha Psi Fraternity.
He is missed dearly both by his family, and many dear friends. He was often inspired by this quote
"Our lives begin to end the day we become silent about things that matter." Dr. Martin Luther King, Jr.