Florida Blue Awards $15,000 Grant to CoPPS, IPH Learners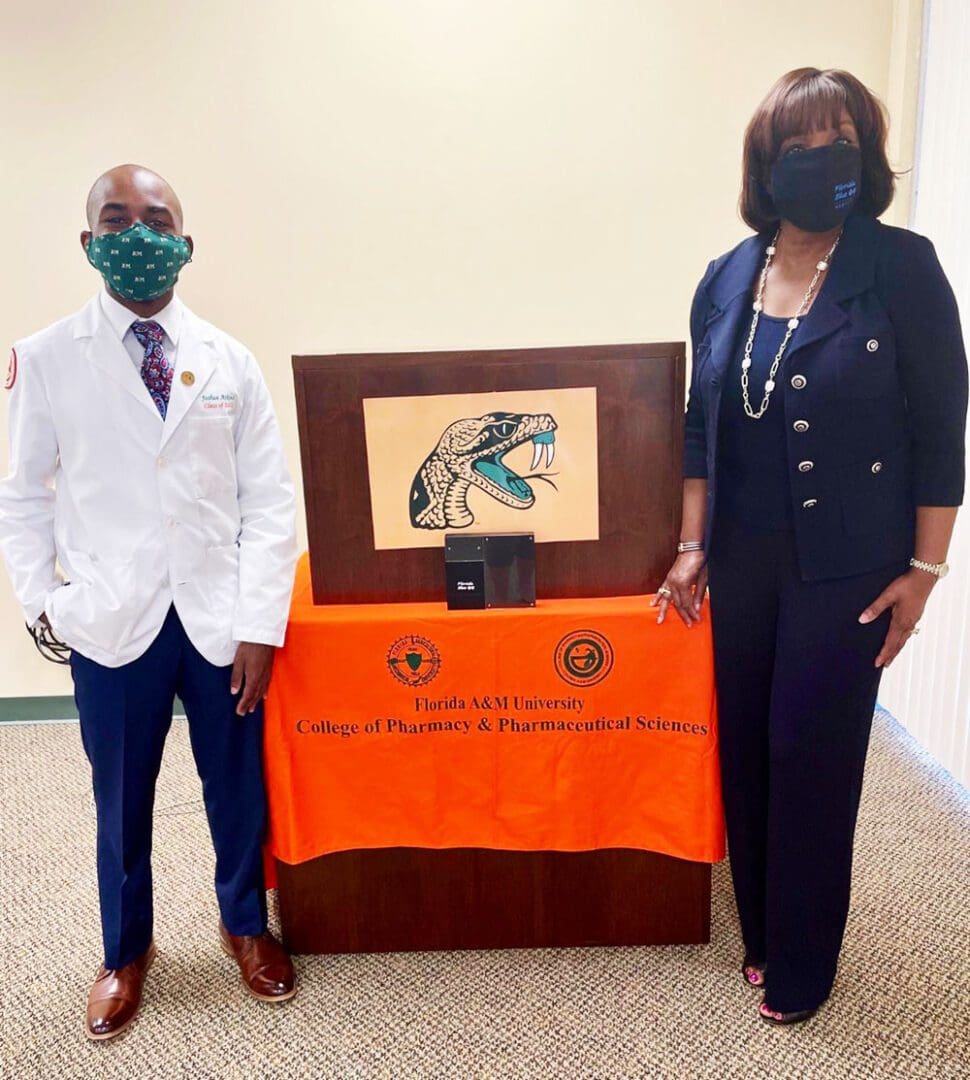 Pictured from left to right: Joshua Atkins, PharmD, FAMU CoPPS, IPH C/O 2021; Cynthia R. Griffin, PharmD, CHIE, Florida Blue Vice President, Medicare Pharmacy Programs
Tallahassee, Fla. – Florida Blue has awarded a $15,000 grant to the Florida A&M University College of Pharmacy and Pharmaceutical Sciences, Institute of Public Health (CoPPS, IPH). The purpose of this grant is to allow CoPPS, IPH P1 and P2 learners the opportunity to take the Pharmacy Curriculum Outcomes Assessment (PCOA), which is a comprehensive tool developed by the National Association of Boards of Pharmacy (NABP) to provide an independent, objective, and external measure of student performance in United States pharmacy curricula.
"Pharmacists are an important personal link between people and their doctors," said Cynthia Griffin, PharmD, CHIE, Florida Blue Vice President, Medicare Pharmacy Programs. "Supporting FAMU students as they prepare for the rigorous board exam will help provide much-needed pharmacists in more neighborhoods. That is one of many ways Florida Blue can live our mission of helping people and communities achieve better health." The PCOA is provided at no cost for students nearing the completion of their didactic curriculum (P3 year) where they are required. The assessment fee per individual in other curriculum years is $75. The PCOA may help evaluate if a school's curriculum is meeting the desired outcomes of its Doctor of Pharmacy program.
"The PCOA is a key step in measuring our learner's success with our pharmacy curriculum and provides them with two (2) exposures to PCOA. One to gain familiarity and the second as a College funded requirement. It is part of qualifying to progress to direct care of patients in the fourth and final year of the curriculum," said CoPPS, IPH Dean Johnnie L. Early, II, Ph.D. "This grant, provided by Florida Blue, will continue to keep our learners at the leading edge of success. We are grateful for our partners at Florida Blue and their support of our continuing efforts to maximize learning and performance.
" Ideally, the repeated exposure to the PCOA will give learners the confidence and additional preparation needed in order to be successful and to exceed expectations when they complete the exam during their third year of study.
Florida Blue, Florida's Blue Cross and Blue Shield company, has been providing health insurance to residents of Florida for more than 75 years. Driven by its mission of helping people and communities achieve better health, the company serves more than 5 million health care members across the state. In total, Florida Blue and its affiliated companies serve more than 28 million people in 45 states. Headquartered in Jacksonville, Fla., it is an independent licensee of the Blue Cross and Blue Shield Association.